Burn After Reading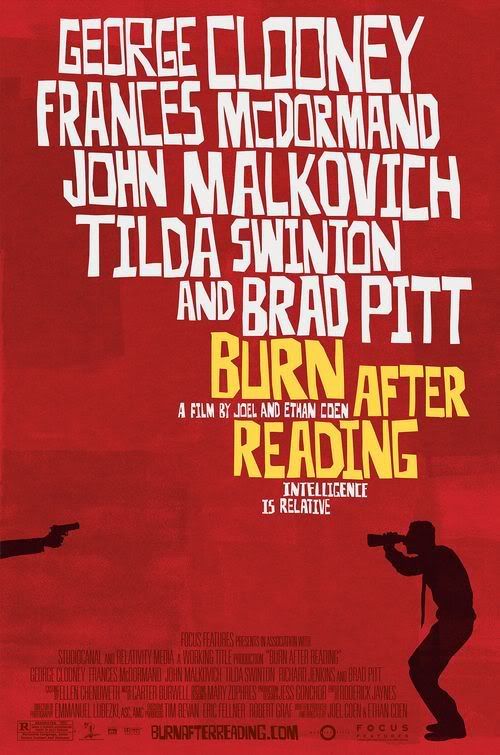 It only took twenty years, and about a dozen terrific pictures, but the
Coen
Brothers have finally got into the more public spotlight, and the wide release and rather large box office take (their largest to date) for "Burn After Reading" is strong evidence of that. Perhaps now their films won't be released into the obscure only to appear on DVD a few months after their release. But it's clear that even after winning the Oscar last year for "No Country for Old Men" that the
Coens
are not crossing the line into the mainstream, and "Burn After Reading" is vintage
Coens
from beginning to end-from their classic low camera angles, to their "man at the desk" trademark that seems to appear in every film that they've ever done. 
I will be as quick as possible with the plot, as this is a film where the less you know the better. The film begins off in Langley, Virginia, where CIA analyst Osbourne Cox (John
Malkovich
, as
sleazy
and sardonic as ever) is released from his job (no reason is really given except that he has a drinking problem.) Telling his wife Katie (Tilda Swinton) that he quit, he begins to work on his memoirs. Katie is meanwhile having an affair with Harry (a bug-eyed anti-Cary Grant-esque George Clooney), who is also married but enjoys going to internet dating services to meet and lay women. His latest prey is Linda (Frances McDormand), who works at Hardbodies Fitness Center, along with Chad (a gleefully over the top Brad Pitt). It is here where the meat of the story comes into play. Katie wishes to divorce Osbourne and her divorce lawyer has her get a CD containing his financial statements. This CD ends up in the hands of Chad, who teams up with Linda to try and get some kind of blackmail reward for it, as they think it contains some truly secret information. Linda wants the money to pay for four plastic surgeries in her quest to "re-invent" herself. And its from here that the fates of these five characters, and a small handful of others, come together.
The real ingenious part of "Burn After Reading" is how the main catalyst for this story is a CD-ROM that really doesn't contain any type of important information. Nobody outside of Linda and Chad really have any reason to care about its contents. And this is why the real meat of the film is that nearly every character in this film is a complete idiot, leading to one of the most frustratedly brilliant third acts in the recent memory (aside from the nearly perfect third act of "In Bruges" from earlier this year.) And our ending is just as sudden as the one for "No Country for Old Men," but still on the most satisfactory note. We don't get big finales for all of the characters here, and the last scene starts without the audience knowing that this is the end, and it really hits the nail on the head for how insignificant this story is in the grand scheme of things, and it also features J.K. Simmons is one of his most memorable roles, despite the fact that he's only in two scenes throughout.
As for the performers, there is good work from everyone involved, though some better than others. I already noted J.K. Simmons as a highly memorable character, both in character and through quotes. The best of the ensemble is probably John Malkovich, who is great as the frustrated, confused, and rather sick Osbourne Cox. After that is Brad Pitt, who does get last billing but is as hilarious as ever. Pitt really does take advantage of his "pretty boy" looks, and turns them into one ingeniously witty character. Chad is a real fitness freak at heart, clad with his red gym outfit and his iPod strapped to his shoulder. Clooney and McDormand do some good work, and its fun to have the lead actress not be an icon of beauty, which is actually addressed in the film. And lastly Tilda Swinton is clearly having fun with her very cold and icy Katie Cox, who is ironically a children's doctor.
As for the Coens-I really don't think we have to worry about them falling into the mainstream after all of this attention they've gotten. They really do stick to their roots, and allow the average audience to get enjoyment out of it. This isn't the strongly over the top comedy the ads seem to make it out to be, but those who enjoy black comedy will get strong entertainment out of it. The Coens also keep their typical angles and styles. Their quick edits on conversations, as well as the abundance of low angles-we are always looking up at their characters. And lastly their classic "man at the desk" image, of a man of rather high stature being seen behind a desk, prominent on their throne of glory. In this case its clearly J.K. Simmons, but its such a repeated image in their films that it is always worth mentioning. They did stray away from their usual cinematographer, Roger Deakins, who was nominated last year for his work on "No Country," but he had commitment to another film-Deakins was missed, but the film looks as crisp and clear as ever. It is always amusing watching a Coen Brothers film in a packed theatre to catch audience reaction. It's very rare that the entire theatre erupts into laughter at the same time-rather we have scattered reactions, which really do show how many different crowds their brand of humor relates to. "Burn After Reading" is not their best film, but it is very funny, very entertaining, and a great antidote to the powerful dark "No Country for Old Men" last year.